Call The Fence Warrior at 863-377-5178 for your FREE quote NOW!
Welcome to The Fence Warrior
Your Shield of Quality Fencing Solutions
Are you in search of the perfect fence to enhance the security, beauty, and functionality of your property? Look no further than The Fence Warrior – your trusted partner in the world of fencing. With a steadfast commitment to crafting exceptional fencing solutions, we stand as your shield, safeguarding what matters most to you.
At The Fence Warrior, we understand that a fence is not just a boundary; it's a statement. It's an embodiment of your style, a protector of your privacy, and a guardian of your safety. Whether you seek to define your property's borders, create a safe haven for your family, or elevate your business's security, we have the knowledge, expertise, and dedication to turn your fencing vision into a reality.
Why Choose The Fence Warrior?
Our journey in the fencing industry is not just about installing fences; it's about building trust. As seasoned fencing warriors, we've honed our skills over the years, becoming masters of our craft. Our commitment to excellence, integrity, and customer satisfaction has earned us a reputation that we proudly uphold.
Here's why The Fence Warrior stands out:
Experience that Counts: With years of hands-on experience, we possess the knowledge and skills needed to tackle fencing projects of any size or complexity. Whether it's a residential oasis or a large-scale commercial undertaking, we're up for the challenge.

Uncompromising Quality: We believe in using only the finest materials and employing the latest techniques to ensure that your fence not only meets but exceeds your expectations. Quality is our mantra, and it's evident in every project we undertake.

Customer-Centric Approach: Your satisfaction is our ultimate goal. We listen to your needs, offer expert guidance, and tailor our services to match your vision. Your happiness with the final result is what drives us.

Proven Results: Don't just take our word for it. Our satisfied clients speak for us. Check out our testimonials and see how we've transformed properties and lives with our fencing solutions.
As you explore our website, you'll find comprehensive information about our diverse range of services, various fencing materials, expert tips, and featured projects that showcase the quality of our work. Whether you're interested in fence installation, repair, or simply need advice on fence care, we've got you covered.
Ready to embark on a fencing journey with The Fence Warrior? Take the first step by requesting a free quote. Let's build the perfect fence together – one that reflects your style, provides security, and stands the test of time.
Your quest for top-notch fencing solutions ends here. Welcome to The Fence Warrior, where your fencing dreams become reality.
Call The Fence Warrior at 863-377-5178 for your FREE quote NOW!
Our Comprehensive Fencing Services
At The Fence Warrior, we're your partners in creating the perfect fencing solution for your needs. Our comprehensive range of services ensures that we have the expertise to handle all your fencing requirements, from installation to maintenance and beyond. Explore our offerings:
Fence Installation: Trust us to bring your vision to life with expert fence installation services. Whether it's a wooden picket fence for your home or a security fence for your business, we've got you covered.

Fence Repair: Don't let a damaged fence compromise your property's security or aesthetics. Our skilled team can quickly and efficiently repair your fence, restoring its strength and beauty.

Wooden Fences: Discover the timeless charm of wooden fences. We offer custom wooden fence installations that combine aesthetics with durability, enhancing the appeal of your property.

Vinyl Fences: Low-maintenance and versatile, vinyl fences are perfect for those who seek a durable yet elegant fencing solution. Our experts specialize in vinyl fence installation and maintenance.

Chain Link Fences: Ideal for both residential and commercial properties, our chain link fence services provide security without sacrificing visibility. Trust us for quality chain link fence installation and repair.

Metal Fences: Elevate your property's security and style with our metal fence options. From ornamental iron fences to sturdy aluminum solutions, we offer a wide range of metal fencing services.

Pool Fences: Keep your pool area safe and secure with our pool fence installation services. We prioritize safety and aesthetics to create a pool enclosure that complements your property.

Gates and Entry Systems: Enhance your property's convenience and security with custom gates and entry systems. Our automated gates and stylish entry solutions add value to your property.

Commercial Fencing: Protect your business premises with our commercial fencing solutions. From high-security fencing to perimeter enclosures, we cater to your commercial needs.

Residential Fencing: Create a haven of privacy and beauty around your home with our residential fencing services. Our fences not only enhance security but also elevate your property's curb appeal.
Our commitment to excellence extends beyond these services. We take pride in our craftsmanship, using top-quality materials and techniques to ensure your fence stands the test of time. Whether you're looking to install a new fence, repair an existing one, or explore fencing material options, you'll find The Fence Warrior to be your trusted ally.
Call The Fence Warrior at 863-377-5178 for your FREE quote NOW!
Why Choose The Fence Warrior (more good reasons!)?
At The Fence Warrior, we're not just your average fencing company. We're your friendly neighborhood fencing warriors, and we're here to tell you why you'll love partnering with us:
1. We Love Fences (Seriously): We're not just in the business of installing and repairing fences; we're passionate about them. Fences are more than just barriers; they're the first impression your property makes. That's why we pour our hearts into every project, ensuring it's a fence you'll be proud of.
2. Fencing Wizards with Experience: With years in the game, we're like fencing wizards. We've seen it all, from picket fences to grand commercial enclosures. There's no fencing challenge too big or small for us to conquer.
3. Quality is Our Jam: When we say quality, we mean it. We're the folks who lose sleep over the perfect fence post and obsess over the ideal paint finish. Our commitment to quality is unwavering, and it shows in every fence we build or repair.
4. We Treat You Like Family: When you choose The Fence Warrior, you're not just another customer – you're family. We listen to your needs, offer friendly advice, and always put your satisfaction first. Your happiness is our victory.
5. Reviews that Warm Our Hearts: Our clients aren't just happy; they're over the moon with their new fences. Check out our reviews, and you'll see why we're everyone's favorite fencing warriors. We couldn't be prouder of the smiles we've put on our customers' faces.
6. Fencing Tips and Tricks: We're not just here to install fences; we're here to educate. Our website is chock-full of tips and advice on fence maintenance, care, and style. We want you to be a fencing pro too!
7. Your Vision, Our Mission: Your dream fence is our mission. We take your ideas and bring them to life, ensuring your fence is a reflection of your style, needs, and personality.
So, why choose The Fence Warrior? Because we're not just in the business of fences; we're in the business of making dreams come true, one fence at a time. Join our fencing family and let's build something amazing together. Your perfect fence is just a call away!
Ready to get started? Click that "Get a Free Quote" button, and let's start crafting your ideal fencing solution.
We can't wait to be your fencing warriors!
Call The Fence Warrior at 863-377-5178 for your FREE quote NOW!
Fencing Materials: Find Your Perfect Match
When it comes to fencing materials, one size doesn't fit all. At The Fence Warrior, we offer a diverse range of options to ensure your fence not only serves its purpose but also complements your style. Explore our variety of fencing materials:
Wooden Fences

Description: Classic and timeless, wooden fences add warmth and natural beauty to your property. Choose from various wood types and styles to achieve the look you desire.

Vinyl Fences

Description: Low-maintenance and durable, vinyl fences are perfect for those who want an elegant, long-lasting solution. They come in various colors and styles.

Chain Link Fences

Description: Versatile and affordable, chain link fences provide security without obstructing views. They're ideal for both residential and commercial properties.

Metal Fences

Description: Metal fences, including iron and aluminum options, offer unmatched durability and a touch of sophistication. Ornamental designs are available.

Aluminum Fences

Description: Lightweight yet robust, aluminum fences provide a perfect blend of strength and elegance. They are resistant to rust and are available in various styles.

Pool Fences

Description: Safety is paramount around pools, and our pool fences ensure just that. They combine security with style, keeping your pool area safe and inviting.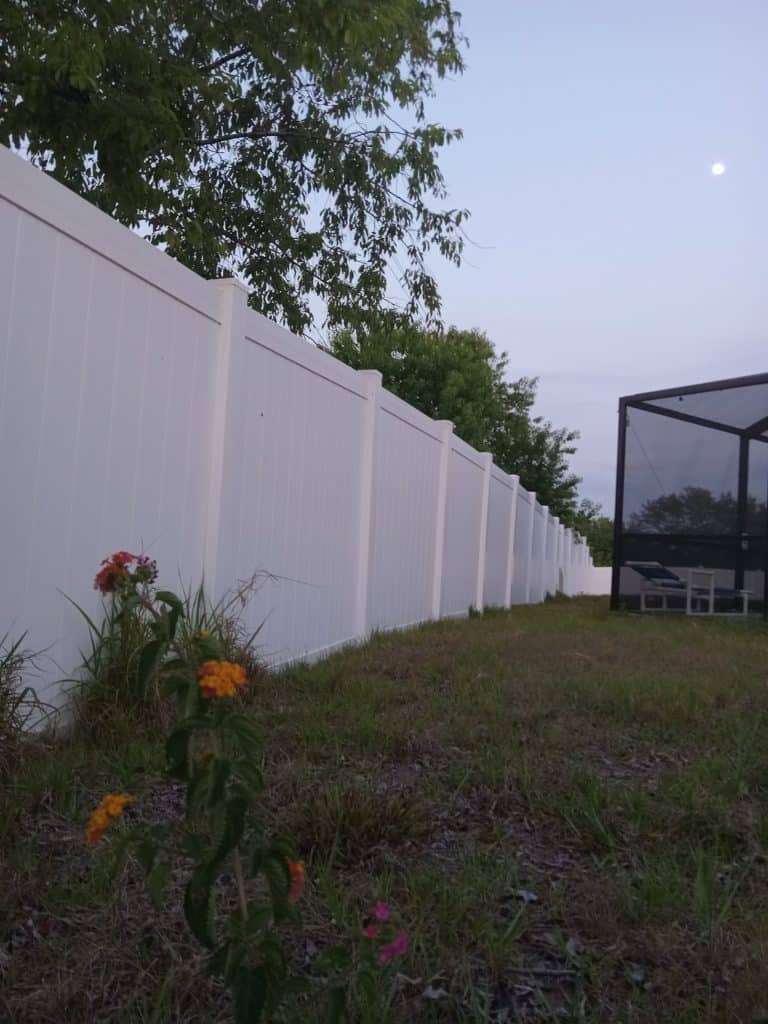 Call The Fence Warrior at 863-377-5178 for your FREE quote NOW!
Expert Tips and Advice: Fencing Wisdom from The Fence Warrior
Hey there, fellow fence enthusiast! At The Fence Warrior, we're not just about installing fantastic fences; we're all about sharing our knowledge with you. We want you to be the neighborhood fencing expert, and we've got some friendly tips and advice to help you on your journey:
1. Love Your Fence, Care for Your Fence:
Fences need love too! Regularly inspect your fence for wear and tear, and address any issues promptly. A little care goes a long way in extending its lifespan.
2. Staining for Longevity:
Want your wooden fence to stand the test of time? Consider staining it. It not only adds a pop of color but also protects against the elements.
3. The Power of Cleaning:
A clean fence is a happy fence. A gentle wash with soapy water can remove dirt and grime, making your fence shine like new.
4. Protect Your Investment:
Pool fences and wooden fences benefit from sealants. They keep your fence in great shape, even in the face of water and weather.
5. Mind the Gate:
Your gate is the entrance to your fortress. Ensure it's always in good working order and secure. Regularly oil hinges and check for any sagging.
6. Security Matters:
Fences serve as a security layer for your property. Opt for sturdy materials and consider height and design to maximize security.
7. Know Your Local Regulations:
Every area has its own fencing regulations. Before embarking on a fencing project, check with your local authorities to ensure compliance.
8. Be Neighborly:
If your fence borders a neighbor's property, keep the lines of communication open. Discuss your plans and ensure both parties are happy with the outcome.
9. DIY or Pro? It Depends:
Thinking of a DIY fence project? Make sure you have the skills and time. Sometimes, it's best to leave it to the pros for a job well done.
10. Let's Chat!
Have questions or need advice? We're just a call or click away. Our friendly team is here to help with all your fencing queries.
Remember, we're not just The Fence Warrior; we're also your trusty fencing sidekick. So, whether you're a seasoned fencing warrior or just starting your journey, we've got your back with tips, advice, and the best fencing solutions around. Happy fencing!
Call The Fence Warrior at 863-377-5178 for your FREE quote NOW!